Title: President, Vyron Corp.
Age: 34
Educational Experience: Bachelor's degree, mechanical engineering, UW Madison
Organizational Affiliations/Achievements/Awards: Future 50 BizTimes Winner, Women Business Enterprise (WBE), and Young Presidents Organization (YPO)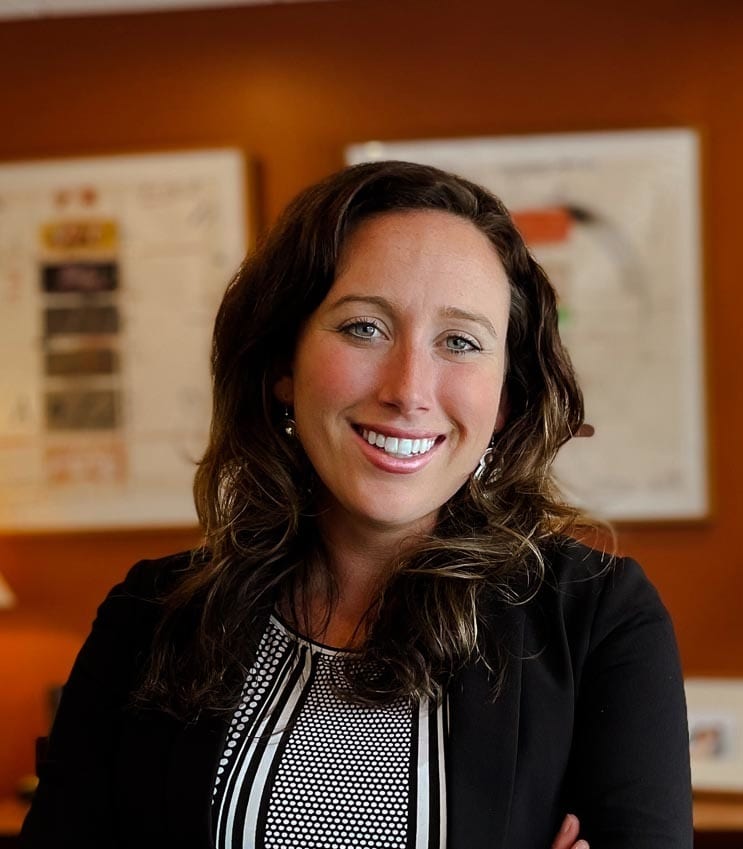 What does your day-to-day job entail?
As a small business owner, my day can entail a whole spectrum of things. From housekeeping items around the office to executive planning meetings. However, no matter how my day takes shape, my job is to set the direction of this company and communicate and inspire that vision clearly to my team. So, whether I'm doing that while chatting with an employee who is helping me mop the floor from a roof leak the night before or setting a long-term vision with my management team in a planning meeting, it overlays everything I do.
What caused you to/when did you fall in love with engineering?
Math and science were always strong subjects for me; therefore, going into college, I knew I wanted to pursue a technical-based degree. But, I honesty didn't know I wanted to be a mechanical engineer until I took my first college chemistry course, which I quickly realized was not for me. When I took thermodynamics and heat transfer, I fell in love. I probably need to give my professor credit for making it so interesting, but I just loved how logical energy transfer within a system seemed to me.
What has been the most rewarding/proudest aspect of your engineering career?
Becoming a business owner within the engineering community is, by far, my proudest moment. With shortages of women leaders in STEM, it was truly inspiring to have the opportunity to become a role model for younger women in my community.
What challenges do women face in this profession? Can you give a personal example? Why aren't there more women in engineering? How can we increase the number of women in engineering?
Women still face several challenges in the engineering profession, especially when combined with the construction industry, which is also male-dominated. Since women in these work sectors are still such a rarity, the dynamic between female and male relationships within this space can be challenging and sometimes awkward in various ways.
We need to spotlight more women mentors and role models. I never realized how important role models are for helping students and young professionals dream bigger and expand their visions of their own possibilities until I joined a small group of women CEOs in Milwaukee. These women meet for dinner several times a year and talk about the real issues we all face, from breastfeeding and menopause to not feeling heard in the workplace. Not only were these leaders real, they were successful. They faced challenges, much like I did, and I no longer felt alone. That was when things really changed for me. Through their successes, I realized I could do it too. We, as women, have something special to offer this world: a new and unique perspective, which is invaluable.
How many years have you been active in the engineering sector? What's changed the most in that time? What's changed the least?
I jumped right into learning about HVAC mechanical systems right out of college. That would be 11 years ago now. To be honest, in this particular sector of engineering, I wish we would see more progressive change. Since the pandemic, there has been minimal change in building IAQ designs.
I would say the biggest change I've seen has been a significant increase in women entering the engineering workplace. It's been extremely encouraging to see.
What drives/motivates you every day?
I went into this career excited to help provide HVAC solutions with a focus on increased energy efficiency and to be an HVAC technical expert for clients. Vyron accomplishes this every day, and each day is always different, challenging, and exciting. However, as a business owner, I have realized the bigger purpose behind my career is the more than 60 families relying on the continued progress and stability of Vyron Corp. We are constantly hiring young engineers and other professionals right out of college, whom we have the privilege to mentor and help find their passion and purpose in their careers. My goal is that we provide a happy work place for them to find that purpose. I believe this happiness translates home to the family unit for a more fulfilling home life. When I have a spouse or significant other tell me they've never seen their partners as happy as they are since starting at Vyron, that is the most fulfilling and rewarding feeling available. When this occurs, I feel I've truly done my job and done it well.
List any mentors who've helped you succeed and describe precisely how they've shaped your success.
One of my bosses very early in my career, Tom McSharry, is truly to thank for much of my success. He was the definition of a true mentor who cared and invested in his team. I was young and lacking confidence in this male-dominated industry, and it always felt like the men around me were smarter and had no doubt about where they were going and how they were going to get there. It made me feel small and overshadowed; however, Tom gave me the encouragement and support necessary to fully lean into the industry.
What advice do you have for prospective female engineers considering entering the field?
Don't be afraid to have a voice. Dream big, take chances, engage with your peers, and always work outside of the box of expectations.