Title: Mechanical Designer, Arora Engineers LLC
Age: 27
Educational Experience: Bachelor and master's degrees in architectural engineering, Pennsylvania State University
Professional Credentials/Accreditations: Engineer in training (EIT) and LEED Accredited Professional – Building Design and Construction (LEED AP BD+C)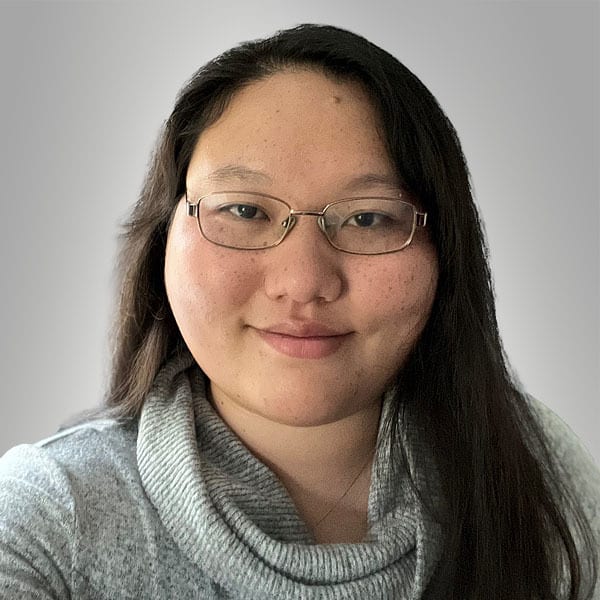 What does your day-to-day job entail?
My role as a mechanical designer is to support my team members in creating well-coordinated sets of drawings. Whether it is to pull together quantity estimates for a proposal or to participate in a 3D coordination meeting to troubleshoot conflicts between HVAC elements and building elements, every day brings a new, exciting challenge. My favorite type of work is drafting in Revit. When I pull up a 3D view of a mechanical, electrical, and plumbing (MEP) system, I see an intriguing puzzle. I treat 3D coordination as a brainteaser and derive great fun in trying to design within the constraints of different building systems and other design considerations, such as maintenance access to equipment. I also perform tasks, including conducting code research, drafting narratives, and completing LEED documents. The variety of work keeps me from getting bored, which is something I am thankful for.
Another part of my job I enjoy is communicating with others. Every conversation between my teammates, stakeholders, and/or clients is a learning opportunity. I believe gaining a greater understanding of the building systems and how others contribute to the design/construction project is helping me to become an effective project manager.
What caused you to/when did you fall in love with engineering?
The day I finished my first internship is the day I realized how much I loved engineering. Before I started my internship, I did not have a clear understanding of what engineers do, what engineering entailed, or whether I would fit in. The first few weeks were terrifying because this was my first office job, and I did not know what to expect. However, after getting praised for the work I did, forming bonds with my coworkers, and getting involved in interesting design projects, I gained an appreciation for, and understanding of, what engineering is. When I left the office for the last time that summer, I took the long way home and resisted the urge to skip a semester to work longer. That was the day I realized I wanted to be an engineer.
What has been the most rewarding/proudest aspect of your engineering career?
The most rewarding aspect of my career is to see my completed projects in use. I enjoy walking through the finished space to see if I did a good job and identifying what I could have done better. My first finished project was a tenant fit-out of a bank just a few blocks from my office. Completing that project felt like a milestone. Satisfaction radiates from within every time I walk past the bank. On days I feel exhausted and unhappy with work, seeing that bank on the way home reminds me I am part of a positive force that allows me to improve the daily lives of real people. I feel fortunate that my work allows me to contribute to the betterment of my home in a meaningful manner.
What challenges do women face in this profession? Can you give a personal example? Why aren't there more women in engineering? How can we increase the number of women in engineering?
Fortunately, I have not faced many bad experiences due to being a woman in engineering. One issue I'd like to highlight is a lack of self-confidence some women face. At the very beginning of my career, I internalized negative stereotypes about women in the male-dominated field of engineering. I tried my best to stay quiet and not ask questions nor ask for help. I was also reluctant to volunteer my ideas because I thought no one wanted to hear them. After a few months, I realized that not actively communicating with my team negatively impacts the way we work. I made the decision to start speaking up and asking questions. Fortunately, I've had the honor of working with people who encouraged me to speak up, which helped nurture my growth and helped me become the capable person I am today. If we can create work environments that make women feel included, we can increase the number of women in engineering.
How many years have you been active in the engineering sector? What's changed the most in that time? What's changed the least?
In the three years I've worked in the engineering sector, the greatest change I've seen is in the way people work and communicate — be it virtually or in the office. I used to believe engineers must complete all their work in the office. How else would they be able to work collaboratively? After working remotely for a couple of years, I realized I get just as much work done at home as I would in the office and communicate with my coworkers just as well. What has changed the least is how important collaboration and teamwork are to the successful completion a project. At the end of the day, I cannot do everything by myself, so being able to rely on my teammates and mentors for help and advice is invaluable.
What drives/motivates you every day?
What is great about working in the architecture/engineering/construction industry is that buildings drafted on plans will eventually become buildings in real life. I feel fortunate to work on exciting projects that create a positive impact for my local community and the country at large. Whether it's a home, workplace, an amenity, or just another beautiful building to look at for the public, I feel motivated to do my best work. The sense of pride is immeasurable whenever I visit my projects and see everyday people enjoying the space.
What remains on your engineering bucket list — what do you aspire to do that you haven't accomplished yet?
The top of my engineering bucket list is to participate in a large hospital project using an integrated project delivery (IPD) approach. Not only would it be an honor to help build a facility that is beneficial to society but to collaborate as intensely as is required for IPD would be a great learning experience. The next item on my list would be to participate in the design and construction of a major landmark in NYC. It would be a dream come true to see the outline of a building I designed among New York City's iconic skyline, flanked by momentous structures, such as One World Trade Center, the Empire State Building, etc.
What's one thing no one knows about you?
I recently tried my first dino-nuggies (dinosaur-shaped chicken nuggets). They do not taste better than regular chicken nuggets.
List any mentors who've helped you succeed and describe precisely how they've shaped your success.
The mentors I have are people who not only taught me how to do my job well but also showed me the kind of person and employee I want to become. They taught me I need to think for myself before blindly listening to directions. Previously, in an effort to not appear uncooperative, I would do everything I was told to do without question. However, seeing my mentors ask questions about the instructions they received from superiors and back up their concerns with research and experience made me realize that, sometimes, discussion is needed and helpful if those instructions do not make sense. In addition, I appreciated that they took the time to quiz me on my tasks, giving them an opportunity to explain the importance of my role, which made me more appreciative of the work I got. Interacting with them improved my critical thinking and made me more careful with my work.
Another quality I want to emulate is my mentor's leadership skill. His experience and knowledge of building systems allowed him to become an invaluable voice in any coordination meeting. He confidently addressed the various trades on a given project, and his extensive expertise helped the team pull together multidisciplinary solutions, which the team at large always greatly appreciated. The more I work in different teams and on different projects, the more I realize how valuable of a resource people like him are. It's hard to come up with the best solution for the entire building, not just one aspect of the design. Without fully understanding the design needs of every discipline, finding a solution that works for everyone is difficult. My mentor motivated me to learn more about other disciplines in hopes of becoming more like him.
Finally, another quality I want to adopt is how my mentors advocate for their team members. They would always laud the positive qualities of their team members and worked to correct errors or mistakes with kindness. Their encouragement and mentorship gave me the tools and positive outlook needed to do the best possible job, and I was proud to see my success reflect positively on them. This feeling of actively helping each other succeed is something I want to share with everyone I work with.
What advice do you have for prospective female engineers considering entering the field?
Complete an internship, especially when you do not know if engineering is right for you. If you completed your internship and felt that engineering is not right for you, finish your engineering degree anyway. By the time you complete your internship, you are already halfway to earning your engineering degree, so there is no sense in stopping now. Many employers are willing to hire candidates with engineering degrees, regardless of any amount of related experience. Earning an engineering degree proves the recipient is resourceful, hardworking, and capable of problem-solving. There is no need to feel pigeonholed because the type of engineering degree you earned does not necessarily dictate the career choice you'll ultimately choose. Most importantly, no matter what you decide to do, be fully invested in that decision. Regardless of gender, every decision is a bad decision if you don't believe in it.